COBBLESCOTE on the LAKE is a gracious circa 1915 waterfront resor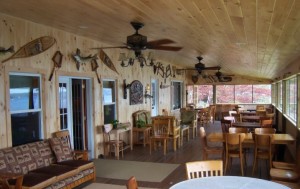 t hotel situated on the western shore of beautiful Otsego Lake. We have operated a family oriented Inn here since 1984. The architectural style is Dutch Colonial. The interior appointments such as the walnut wainscoting are in the tradition of the American Arts & Crafts movement of the early 20th century. Decorative accents include period furniture. The greatest feature of the house is the thousand square foot deck which offers breathtaking views of the lake and the beautiful mountain forest towering above the lakes east shore.
Cobblescote enjoys the warmth of the summer sunrise and the cool of the afternoon shade as the sun slips below the west mountain by mid afternoon. There is almost always a cool breeze from the lake. More often than not, guests here sleep with blankets most of the summer. Every guest room has a private bath. All guest rooms and baths have been recently refurbished with new bedding, window treatments, furniture, carpet etc.
Buy the bodybuilding lovan – free training site buy sustanon 350 women bodybuilding fat clip.
There are two spacious carriage house suites both with kitchens, private bath and private entrance. The two carriage house units each will accommodate four people.
Angler's Den
The Angler's Den is a small private cabin that comfortably accommodates two people. The beautiful, enclosed porch has a sitting area, dining space, refrigerator, coffee station with microwave, and views overlooking the lake that are breathtaking.
Carriage House Garden Suite
Carriage House Deck Suite 




Main Lodge Rooms 
HADLEY COTTAGE
Hadley Cottage has a sleeping alcove on the ground floor and overhead loft with twin beds. It has full kitchen with dining table and lounge area as well as 1.5 bathrooms. This spacious lakeview cottage has a great view of the lake.  Full modern kitchen, all amenities including cable TV, air conditioning, wifi, etc.
There is a waterfront area with a dock and picnic area. We have a pedal boat, a canoe and several kayaks which our guests are free to use. We have the most splendid view of any property on the lake.
A complimentary continental breakfast is provided which includes assorted juices,  assorted fresh fruits,  a selection of hot and cold cereals, an assortment of yogurt,  mixed pastries and all your favorite hot beverages.
Cobblescote is the perfect setting for Dreams Park families to spend a fun and relaxing vacation close to The Park. You will want to spend all your spare time here. We offer spacious grounds with gas grill and picnic tables, a wonderful beach for swimming, fishing, boating or just relaxing. We provide a canoe, pedal boat and kayak free of charge.  All Units  in the main lodge are recently refurbished with private baths, new wall to wall carpeting and state of the art Mitsubishi climate control system and adirondack décor. All rooms are outfitted with new, large, flatscreen TVs.  FREE WIFI on site.
9 miles to Dreams Park, 4 miles to Cooperstown
Peter Bissell, Innkeeper
Booking Now
Check In Times: 2pm and later
Check Out Times: 10am and earlier
Terms and Conditions
Stays of 5 or more nights: 50% deposit is due upon making your reservation, with the final payment due 60 days prior to arrival.
All other reservations: Payment in Full is required upon making your reservation.
Deposits/Payments can be made by Mastercard, Visa, American Express or Discover.
Please call us at 607-422-8866 and we will process your payment by phone.
Personal check, cashiers check, and money orders are also accepted.
Please mail your deposit to Cobblescote on the Lake, 6515 State Hwy. 80, Cooperstown, NY 13326. Please note your reservation dates in the memo section
Multiple Night Stays Rental Cancellation Policy
Deposits will be refunded (less bank fees if paid by credit card) and is contingent on re-booking the vacancy.
Nightly Reservations Cancellation Policy
Refunds on cancellation of nightly reservations require two weeks advance notice and is contingent on re-booking the vacancy.
Taxes: 6% bed tax on stays of 5 or more nights and 8% sales tax when applicable.