COBBLESCOTE on the LAKE is a gracious circa 1915 waterfront resor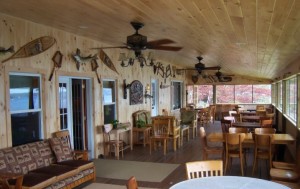 t hotel situated on the western shore of beautiful Otsego Lake. We have operated a family oriented Inn here since 1984. The architectural style is Dutch Colonial. The interior appointments such as the walnut wainscoting are in the tradition of the American Arts & Crafts movement of the early 20th century. Decorative accents include period furniture and the ground floor features a brand new and very large eat in kitchen with a fantastic view of the lake. The greatest feature of the house is the thousand square foot deck which offers breathtaking views of the lake and the beautiful mountain forest towering above the lakes east shore.
Cobblescote enjoys the warmth of the summer sunrise and the cool of the afternoon shade as the sun slips below the west mountain by mid afternoon. There is almost always a cool breeze from the lake. More often than not, guests here sleep with blankets most of the summer. Every guest room has a private bath. All guest rooms and baths have been recently refurbished with new bedding, window treatments, furniture, carpet etc.
There are two spacious carriage house suites both with kitchens, private bath and private entrance. The two carriage house units each will accommodate four people, and they rent for $265 nightly in season (June through August) plus tax.
Deposit
50% deposit required within 7 days of making your reservation.
Deposits can be made by personal check, cashiers check, and money order.
Please mail your deposit to Cobblescote on the Lake, 6515 State Hwy. 80, Cooperstown, NY 13326. Please note your reservation dates in the memo section.
(If you prefer to pay using Mastercard, Visa, American Express or Discover, please call us at 607-422-8866 and we will process your deposit by phone.)
Click Here to view our Terms and Conditions/Cancellation Policies