Join us at Cobblescote this fall and make us your base of operations for your fall foliage getaway!  There are some great fall festivals scheduled for our area in September.  Call today for reservations!
The 36th Annual Harvest Festival at The Farmers' Museum on September 13 and 14.   This Festival is a regional favorite. Enjoy great food, music, animals, and activities your family will love. The event will feature live performances and family activities such as crafts, demonstrations, story time, and contests.
Marvel at demonstrations of dog obedience and agility.
Meet therapy dogs.
Watch a parade of champion animals from the museum's annual Junior Livestock Show.
See cuddly alpacas and watch their agility in an obstacle course. An entire tent is home to these domesticated animals raised for their fiber.
Take a horse-drawn wagon ride
Many artisans demonstrate their skills.
Spinning and fiber art demonstrations.
Harvest time means farm and food:
Help with harvesting potatoes and hand-scything hay.
Apple cider pressing demonstrations.
Savor an abundance of delicious foods from the season's harvest.
Relish the taste of pulled pork, chili, hot dogs, and salads.
Children will especially enjoy:
Rides on the Empire State Carousel
Agricultural activities such as corn shelling and grinding, and grain flailing and winnowing
Historic games and races
Rope making
Apple bobbing
Craft activities for the entire family
Nineteenth-century games in the one-room schoolhouse
Admission to Harvest Festival is included with paid museum admission: $12 adults (13+), $10.50 seniors (65+), $6 children (7-12). Children age 6 and younger are free, as well as members of the New York State Historical Association.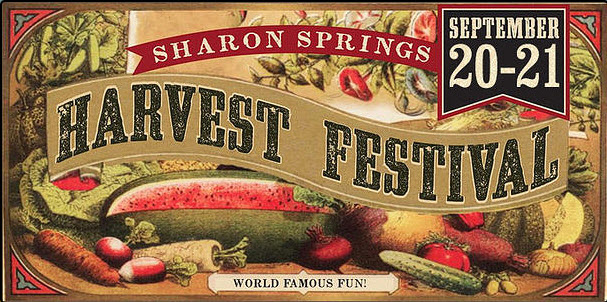 Don't miss the sixth annual Harvest Festival in Sharon Springs on September 20 and 21.  This event celebrates the harvest of local farmers, the arrival of Autumn and is a time to bring the community together. It's an exciting time in our area, so come and be a part of Sharon Springs.